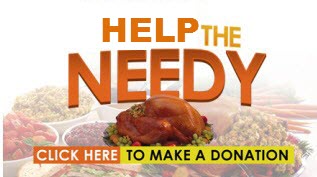 HOPE HelpTheNeedy  project is a program based on the following Scriptures recommendations:
For the poor will never cease out of the land; therefore I command you, You shall open wide your hands to your brother, to your needy, and to your poor in your land. (Deuteronomy 15:11 – Amplified Version)
He who is kind to the poor lends to the LORD, and he will reward him for what he has done. (Proverbs 19:17)
 "Then Jesus said to his host, "When you give a luncheon or dinner, do not invite your friends, your brothers or relatives, or your rich neighbors; if you do, they may invite you back and so you will be repaid. But when you give a banquet, invite the poor, the crippled, the lame, the blind,and you will be blessed. Although they cannot repay you, you will be repaid at the resurrection of the righteous." (Luke 14:12-14)
The mission of HOPE Christian Life Center with the HelpTheNeedy can be define in one word: CARING.
We want to care for others by offering:
Our money

Our time

Our energy

Our prayer
Your Donations will help us accomplish our mission of caring for others. This program is not limited to feeding the needy only with food, but to provide whatever the Lord put in our hearts to help advances the cause of humanity and demonstrate the Love of Christ by laying our life for others. "Greater love has no one than this: to lay down one's life for one's friends." John 15:13